Welcome
Hello and welcome to the website of Ballydown Primary School in Banbridge, County Down Northern Ireland. Our website will give you an insight into life at our school. We hope you enjoy spending time browsing.
We will be officially launching our new website this term. We have a lot of work still to do but feel free to have a little look around now.
We have lots more exciting images to upload and share with you. Please visit us again so you can find out what we have been doing in class and school.
The Giving Machine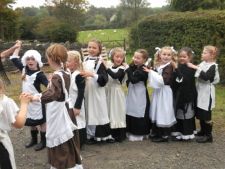 The giving machine is a unique charity that enables you to generate sales commissions for Ballydown Primary School with every online purchase you make.
You generate commissions by shopping online with retailers including Amazon, Play.com, John Lewis, eBay, Sainsbury's and Next.
Visit www.thegivingmachine.co.uk to register.
Latest Photographs
Upcoming Events...
Friday, 21st December 2018
Half Day Closing
Saturday, 22nd December 2018
Christmas Holidays
Sunday, 23rd December 2018
Christmas Holidays
Monday, 24th December 2018
Christmas Holidays
Tuesday, 25th December 2018
Christmas Holidays
Wednesday, 26th December 2018
Christmas Holidays
Thursday, 27th December 2018
Christmas Holidays
Friday, 28th December 2018
Christmas Holidays
Saturday, 29th December 2018
Christmas Holidays
Sunday, 30th December 2018
Christmas Holidays
Ballydown Primary School, 64 Lisnaree Road, Banbridge, Co. Down N. Ireland BT32 4JN Phone: 028 40 662738